The Learning Toolbox (LTB) is a software platform that allows people without any special technical knowledge to effortlessly build their own mobile learning apps and share them with others. The LTB is particularly well suited for informal learning and learning alongside work, where apps can be linked to physical objects and locations using a QR code. Teams and organisations can manage apps and their users in a private Stack Store. There are many other applications beyond education and training where the LTB can make a difference, such as marketing, team collaboration, customer engagement, event organisation and many more. The LTB platform has three key elements:
Stack Editor
Helps you create learning apps in no time and without any programming skills
Tilestore
Allows users to share their learning apps with others
LTB App
Can host an endless range of learning apps that are created using the Stack Editor
Create apps that feature multimedia learning content and tools in very little time and with no technical knowledge
Manage your apps and your users with your own app store.
Share the apps you create with friends, colleagues, or the whole world.
Attach your apps to physical objects and locations using a QR code.
More information: http://ltb.io
Uses
Practice-based learning
Work placements and apprenticeships can involve a variety of actors, including teachers, students, placement coordinators, and training supervisors in the companies. When students are on work placements or apprentices are training on the job, they are often disconnected from their university or school. They want to be able to reach teachers and trainers to get advice, while the teachers and trainers would value the opportunity to assign practice-based activities and tasks to students while they are at work. Placement coordinators want to streamline student assessments by communicating more effectively with the companies they also value automated feedback on student progress. Training supervisors in companies appreciate tools that can help them save time on assessment and reporting. The Learning Toolbox connects these different actors in practice-based learning and provides them with the tools to address their needs and be more efficient in what they are doing.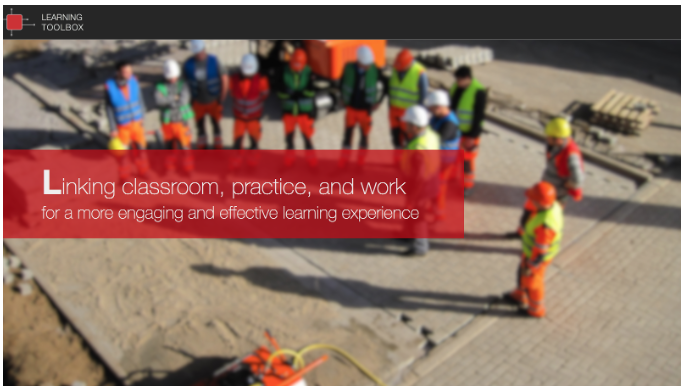 Organising knowledge, tools, and data in construction
The planning of construction projects and their execution on building sites involves organising and distributing large amounts of documents and brings with it the need for effective communication between planners and construction workers. The sheer amounts of documentation produced during a construction project poses a significant problem for workers when they have to access specific information at a given time. Planners are faced with the problem of getting up-to-date information to the building site and of getting clear feedback from workers about problems and defects that need to be addressed in a timely fashion. The Learning Toolbox helps planners distribute the information that the workers need, when and where they needed. In addition, the LTB allows workers to capture faults and report them back to the head office.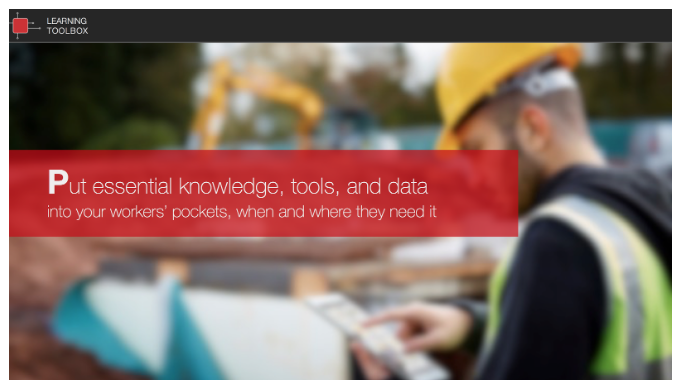 e-Posters for conferences (developed beyond the project)
Conferences want to make their posters more interactive and engaging and allow people to explore the content. The technology that is currently available to do this is very expensive and does not really provide what is needed. In particular, available solutions sometimes depend on special hardware and they tend to be limited in the interactivity that they offer. Presenters also have complained that for some solutions, the content was unreadable for most people in the room and that the demos didn't provide enough time to use any of the interactivity. The Learning Toolbox allows people to create an e-poster with multimedia interactivity that can be viewed and explored across multiple devices. People will then be able to browse the e-posters at any time during the conference by scanning the QR code and exploring the stack on their phone/tablet.
This use case was put into practice and has been highly successful after the Learning Layers project. By October 2018 it had been adopted as the ePoster platform at 6 international conferences, with thousands of users. For more information see http://ltb.io/eposters/

Figure 4: e-Posters for conferences
Tech specs
The Learning Toolbox is available on Android and iOS as a native app built on Phonegap. There is also browser-based version available that runs on mobile and PC. The Stack Store and Stack Editor run under a Software-as-a-Service model.
The Story
The Learning Toolbox grew out of the co-design process of an earlier prototype called Sharing Turbine. The aim was to develop a digital resource environment for knowledge sharing and communication across workplace learning, training at workshops, and school-based learning. The initial design idea was based on the digitisation of training and learning resources for apprentice projects during their initial training. This design idea evolved during the co-design process into an integrated toolset to provide access to tools and web resources and supports real-time knowledge sharing via mobile devices.
The accompanying researchers and some technical partners organised outreach activities with mock-up versions of Learning Toolbox to different potential users in construction sector and the Bau-ABC team prepared several short videos of how the LTB could be used at the training centre. At the same time, capacity-building measures at different stages of the co-design process were implemented, first in form of multimedia training for interested trainers and then as the Theme Room Training campaign for the entire training staff of Bau-ABC.
During 2016, the Learning Toolbox has been deployed for Bau-ABC training activities through a user-driven deployment process involving some pioneering trades. During this period, the trainers themselves have designed the structure of their stacks and the schedule by which resources are made available to apprentices, according to their preferred pedagogic approach. For more details, see the impact card [link:C-11] and the learning scenario [link:S-09].
More recently, the Learning Toolbox has been used in the context of creating and delivering an informal learning package for conferences, combining open activities in which discussion, exploration & informal learning can thrive, along with technology tools to support, strengthen and recognise this learning. Using Learning Toolbox allowed us to share information, ideas and resources with participants ahead of the event and allowed easy creation and collation within the stack itself of reports & reflections from the BarCamp sessions both during and after the sessions. See the impact card [link:C-07] for more information.
Research
The role of research in the development of Learning Toolbox has been manifold - taken into account the complexity of the co-design process and the involvement of different research teams (accompanying researchers from ITB and TLU as well as evaluation researchers from UIBK). Altogether the research contributions can be summarised as co-participation in research & development dialogue in the following ways:
Conceptual support: The ITB team revisited the concepts 'work process knowledge' and 'action-oriented learning'. This work provided the basis for design principles to keep the participative co-design process grounded in the context of vocational education and training and workplace-based learning.
Process support: In the co-design workshops, multimedia training workshops, outreach activities and pilot events the ITB team documented the process with reports, blogs, website articles and research papers. During the transformation of the design idea (from digitisation of learning resources to development of an integrative toolset for managing resources, communications and processes) the ITB research team supported the reorientation of application partners.
Pedagogical support: During the Multimedia Training ITB/Pont/TLU teams worked as co-tutors to equip participants with multimedia competences to be used in the context of vocational education and training (as a basis for taking up the Learning Toolbox).
Support for the deployment of tools: During the deployment of tools the ITB/TLU teams and the LTB developers have supported the users to find their own ways to build stacks and make resources available for learning.
Evaluation and reflection: Throughout the co-design process the UIBK team has been in charge of interim evaluation events, including stakeholder interviews and focus groups with users. The ITB/Pont teams (and concerning the Theme Room campaign TLU) have been in charge of ongoing evaluation and reflection alongside co-participation in the process. In the final phase of these views were integrated with joint interpretation of evaluation results (see Learning Scenario "Learning Toolbox as Support for Action-oriented Learning in the Training for Construction Sector - Instances of Change").